let's do this…

Dear bird, you shouldn't do loops and tricks when I'm driving by you. I hope your last moments here on earth were enjoyable.
Dearest peanut butter, I don't what it is lately that's making you a thousand times better but I'm needing to replace you every 2 weeks, you're just that delicious to me. Please don't ever stop.



Dear a/c repairman, thank you so so much for fixing my a/c even though I haven't turned it on once since because a cold front came in. It's the thought that counts with me.
Dear HIMYM, you're just awesome..and watching you from the beginning on netflix is keeping me laughing. You're almost my new 'friends' but not quite.



Dear .42 cent food scraper, you have been the light of my life and the best purchase .42 cents could get me. We will never part..ever.
Dear pest man, I will humbly accept that maybe one of my dried goods is infested with these 'grain beetles' as you call them even though I've looked over everything and found nothing…I will look again…because you said so.
Dear grain beetles, you may be very good at playing dead so I'll leave you alone, but just remember, I'm the one that has the final say in your death…don't push me.
Dear Spirit 88.9, thank you for personally telling me that your dj's act worldly to attract 'normal people' (as you put it) to your radio station as your 'ministry'. You've made it so easy for me to replace your preset to another station in my car and tell all my friends what you're doing.
Lovingly, Em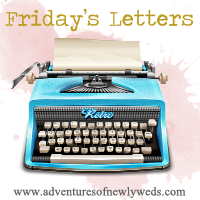 Have a fun filled weekend everyone!!
Thanks for going gentle on me in my failures of gossiping yesterday!! Though I have to pat my back for deflecting you from chiding me by talking about cussing. I'm good like that!
Pin It Now!