Its Tuesday, no its Friday…I'm so confused! Darn you holiday on a Wednesday!!

Wednesday felt like Saturday, Thursday felt like Monday and today…well, I'm just thankful its actually Friday.



Can I get an amen!?

Dearest client and now new friend, the whole 'me loving volleyball..everything about volleyball..and gushing over the fact that you play in a city league', was clearly lost on you since you sat there in silence afterward. Or it really wasn't lost on you and you just didn't want to suggest I join your team. I may have shed a tear…
Dearest buddies, thanks for sticking around after yesterday's post. I thought for a moment that surely one or two would run screaming, 'the girl stinks, I can't follow a stinky girl…' but for the record, I don't stink anymore! Promise.
Dearest 'new buddies', I promise, I don't stink. Awkward, sure. But not stink.
Dearest G-man, skyping = glorious. Let's keep doing that, you know, for sanity sake.
Dearest bacon, you cooked perfectly and not only cooked perfectly, you tasted perfectly…all 4 nights I've eaten you.
Dearest feet, I do think its weird you've shrunk 1 1/2 sizes. From a 9.5-10 to a now 8.5-9? How do you do that? I mean really, how?
Dearest shoe stores, I can now shop in your 'cute section' since you clearly believe only people with 'smallish' feet are allowed to own cute shoes, while the 'mammoths' are forced to buy ugly mules or sneakers.
for the upcoming wedding


via Macy's

and finally, Dearest birthday, 24 more daaaaays…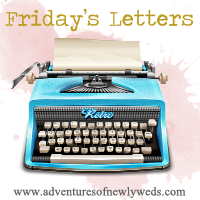 Happy weekend to you all!!!
Pin It Now!