Alright folks, this is it! This marks the last Friday I'll ever spend as a 30 year old. I'm going to live it up with a potluck at work. That's right! Things are going to get cray-zay today! The next you hear from me I'll be…31! *gasp*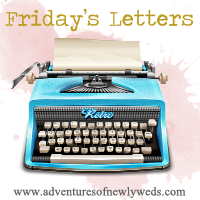 Dear
Lauren
,
thank you so much for the Liebster Award. You're too sweet!!
Dear basil plant,
you're doing real good there buddy. Keep up the yumminess for me.
Dear guys,
close your eyes, count to 10 and when you open them jump down 2 letters..k, thanks. ..or you know, just jump down 2 letters without the counting.
Dear ladies,
I'm in love with Kohl's. I got a $36 bra that didn't fit right, returned it for a full refund, walked over, got the exact same bra, in the correct size and paid only $9 for it. I may have pumped my fists in the air repeatedly in excitement at the checkout.
Dear Kohl's,
you're just plain awesome. No two ways about it. Darn stinking awesome.
Dear signature salad,
you will rock the potluck. I know this before anyone's even had you because I'm that confident in your abilities to shine. ((cucumber, tomato, feta salad with avocado. With a drizzling of Caesar dressing))
Dear wrinkles,
I saw you! If it wasn't for the dental hygienist forcing me to hold the mirror to my face with the light just so, I never would have seen that you're slowly creeping up on me.
Dear neck cream,
…here I come.
Dear ladies,
DON'T FORGET TO MOISTURIZE YOUR NECKS! …preferably the 'jowl' area.. otherwise you'll be holding a mirror in the dentist's chair with the light pointed just so thinking, oh dear Lord, when did those get there!? as she's explaining to you (a 30 year old woman) how to properly brush your teeth..with toothbrush in mouth and everything.
Dear facial flex facial exerciser,
…I will be buying you in my future and I'll no doubt make sure
no one
ever sees me using you either. But I have all the confidence in the world you'll give me that little boost I'm looking for.
Dear ladies
, thank you for such a great response to my
decal post
. I don't think I've had a post of mine spread around like that before. It makes me so happy to know you took the time to tell your friends to help open their eyes too. I saw so many of them come from facebook and twitter to read it. So, thank you! thank you for sharing.
Have a fun and enjoyable weekend. My agenda consists of a pedicure. A much needed pedicure. My toes are squealing with delight.
7
Pin It Now!