Dear broccoli, I love you. I will always love you, our dates every night have been amazing!



Dear dreaming self, I can't keep up with your weird dreams. A swarm of killer mosquitos?! A girl falling down stairs, landing at the bottom in a broken jumbled mess, all in the same night? ...what is wrong with you??
Dear High School, having the graduation on the track the night I finally made it out there to workout was a good trick.
Dear work, this whole working full time thing is really cramping my jetting off to Hawaii trips I've grown so accustomed to doing.
Dear Hawaiian Airlines voucher, I will use you before you expire. Oh yes, I will…
Dear G-man, I hate that its been 4 months since we've seen each other.
Dear Tabitha, these push ups we've been doing for the past 2 months have been giving me some serious arms!
Dear buddies, which dress should I choose for the rehearsal for my friend's wedding?



I hope everyone has a fabulous weekend. I may have plans…but then again, I may tank 'em and work on my butt groove in the couch, instead. We'll see!

oh and dear June….whoa, you're here!
- Me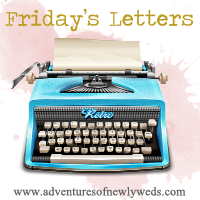 Pin It Now!