I thought it was Friday yesterday…you can imagine my disappointment when I realized at 3pm it wasn't. Yes, it took me that long to realize it. Thank goodness its today though! Cause that means its time for….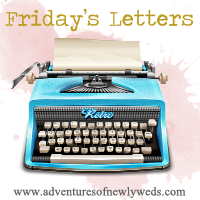 Dear readers, thanks for the support on yesterday's post. I, like a lot of you, wish there would be a punishment for false accusers…maybe and hopefully one day. Dear skin, seriously? …seriously?! We clear up the dermatitis and are ok for a few months and now rosacea? Do not approve…do. not. approve! Dear rosacea, I find it funny you're only prone to women ages 30-50. Thanks for waiting until I was 30 and 8 months old. Dear lamp, what is the deal? You had two people wanting to buy you but both "forgot" they were supposed to meet up to take you. I don't think they see your full potential and don't deserve you. Dear dry shampoo, I don't get what the big deal is with you. I don't notice a change at all when I use you on day 2 hair. What gives?! Dear legs, you have 7 weeks to get super toned for my bridesmaid dress. No flab allowed, okay? Dear ankles, you will soon be separating from the calves once again. It will be painful but I can't have you be cankles anymore, I'm sorry to break it to ya. Dear bleachers, I love you…almost more than broccoli. Running up you feels sooo great. Let's keep meeting up every other day so we can show those ankles and legs who runs the show. oh and bleachers, did you get my pun there? …that was for you.
Loving you loving me,
Emily
Now everyone, I sure hope you have a great weekend. Have some bbq for me, okay? Preferably a chicken sausage kabob or brats or beer brats or a polish dog…

I think I need me some sausage…
Pin It Now!