Can I just say, it pays to speak up. When the stylist does something you don't like, or is "done" and you're unhappy with it, do you say something? Do you tell them to fix a problem that you see or do you say it looks fine, pay and go home unhappy?

She was half way through with styling and I wasn't happy. My rule is to make them straighten my hair so I can see every possible issue. It makes for a fairly boring hairstyle but I don't care. I want to see how it'll look as if I styled it. I questioned a spot and she fixed it and continued straightening. She "finished" and I still wasn't happy and she fixed 2 more spots. Finally I was satisfied.

I know if I walked out of that room without saying a word I would have nothing but negative things to say and would have complained for months as it grew back out. But now, I'm content with it. It put the bounce back in my hair, that I was desperately needing.

Now! My fun friend, Katie is doing a September weekly photo challenge that I love! She gives you 3 subjects that you can choose from (for the week) or gives you the ability to do all three. Whichever tickles your fancy. Then every Thursday, we all get to link up to show what we did. Today is the first week's challenge! Fun, right?!

The 3 this week are:
Me
Now
Details

Since I brought my camera to my hair appointment, I thought what a better "now" and "me". One thing about this salon is its all individualized. Where each and every stylist has their own private room with doors and they're allowed to decorate it any way they want. I've never never been in a salon like this before. Have you!? I kinda liked how she closed her door to give us the ultimate privacy! As you can see that woman loves pink, and apparently dresses every single day in hot pink.


Mine chose more of a vintage 60's theme, as you can tell. With a vintage hair dryer, chair, pictures on the wall and furniture.


Because we know no post is complete without public restroom mirror pictures, I felt it was only right. Ok, truth is, I kinda felt she was ready for me to stop taking pictures in her room, so I jetted off to the restroom to continue. Weird? Akward? Maybe…but I succeeded.


I'm looking forward to the next few weeks of her challenge. If you want to play along, you definitely can! She's keeping the link open throughout the weekend, so hop on in and show us you..or what's going on now…or the details of it all.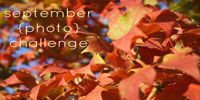 Pin It Now!