The ever so sweet, loveable, adorable, wonderfully worded and beautiful Angie at Living Aloha tagged me in the Versatile Blogger Awards! Yay! Thank you, Angie!! You are the best!

If you don't know Angie, please, go introduce yourself. She's great, you'll love her. And tell her I sent you.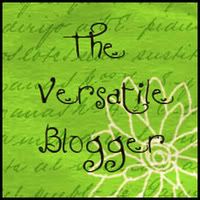 The rules are clear:
- Thank the award-giver and link back to them in your post.
check
- Tell your readers 7 things about yourself.
see below, check
- Give this award to 3 bloggers.
I changed it to a manageable 3 (it was up to 15!) and check
- Contact those bloggers and tell them the exciting news!
soon to check

Way back in the day read: May, '11, I gave 7 random facts about myself and lucky for you, I'm pretty random so I have plenty more to share. Ironically 1 of the 7 involve my love of cheese and appropriately enough I was screaming at Angie just how much I love fried cheese, Tuesday. I pray I'm never lactose intolerant because I love me some cheese.

Okay, on to the 7!

1. I've walked on a 10ft long bed of hot coals..twice. I was also told I was the slowest walker of the group. Never once feeling pain..except the very last step when a coal got stuck between my toes.
2. I have recurring dreams about me going the bathroom. I will not elaborate beyond, its always me. a toilet. and a wide open room w/people all around. And it almost became a reality when I walked into a park restroom in HI where there was 1 toilet with NO door (on purpose)…and women around.
…did I mention I had that dream the night before??

3. When I first moved to Los Angeles, for 3 months straight, I ate chocolate every single day. I craved it and could never get enough…after a 15lb gain, I was forced to cut back to every other day.

4. I once body slammed a girl fighting for a jump ball during a basketball game. She had to be helped off the court. (I was a bit competitive. And yes, it was legal.)

5. The first time I ever fell asleep in class was in the 3rd grade. That started many many years of sleeping in classes for me.

via

6. I am available 24/7. When G-man or my mom, calls or texts and I don't answer or call back within 5 minutes (on the off chance I can't answer), they start to worry and proceed to leave a very concerned voicemail or multiple texts of concern.

7. Because I AM so available, whenever you tweet me or text me, I'll purposely wait a couple minutes so you think I have a life even though I got your text/tweet the moment you sent it. Often times, because I force myself to wait…<to look good in your eyes>, I forget you texted/tweeted me, which is why I prefer to respond immediately.

Alrighty rooty! On to the tagging. These 3 ladies, I've really come to enjoy getting to know. I hope you check them out if you haven't had a chance yet!

Tabitha with My Cliffnotes

Laura with Everything else and everything in between

Megan with Mackey Madness
Pin It Now!